Home > Research > Clinical Translation
Clinical Translation
Autoimmunity
Prof. Eun Bong Lee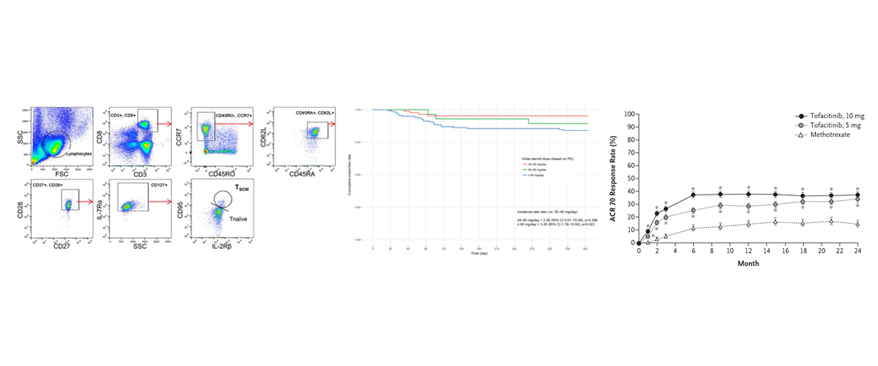 Current Research Interests
• Stem cell-like memory T cells in autoimmune diseases
• Immunopeptidomes in autoimmune diseases
• Thymocyte-thymocyte interactions in T cell development
• Clinical epidemiology

1. Stem cell-like memory T cells in autoimmune diseases
T lymphocytes are central immune cells in development and maintenance of autoimmune diseases. Stem cell–like memory T (Tscm) cells are multipotent progenitor T cells with self-renewal capacity. They can differentiate into different subsets of mature lymphocytes when stimulated via the T cell receptor (TCR). So, they can be also continuous source of pathogenic T lymphocytes in autoimmune diseases. We are focusing on Tscm cells in various autoimmune diseases to find a novel way to cure an autoimmune disease.

2. Immunopeptidomes in autoimmune diseases
T lymphocytes play critical roles in the pathogenesis of autoimmune diseases. Currently, autoimmune diseases are treated with non-specific immunosuppression, causing various side effects associated with immunosuppression. For target-specific treatment, it is essential to find specific molecules that activate autoimmune T lymphocytes. T lymphocytes are activated through peptides bound on major histocompatibility complex (MHC) molecules of antigen presenting cells. Our study is focused on exploring novel peptides presented on MHCs of patients with autoimmune diseases, using proteomics technology.

3. Thymocyte-thymocyte (T-T) interactions in T cell development
In classic immunology, thymocytes are educated by thymic epithelial cells in the thymus. However, presence of MHC molecules on the surface of human thymocytes suggested another thymic education pathway through T-T interaction. Transgenic expression of MHC molecules in the mouse thymus clearly showed the presence of T-T interaction. We are investigating the detailed mechanisms of T-T interaction and its role in development of autoimmune diseases.

4. Clinical epidemiology
As a research laboratory specializing in translational medicine, we are performing various clinical epidemiology works. They include retrospective or prospective observation studies and randomized controlled studies for autoimmune diseases using novel drugs.